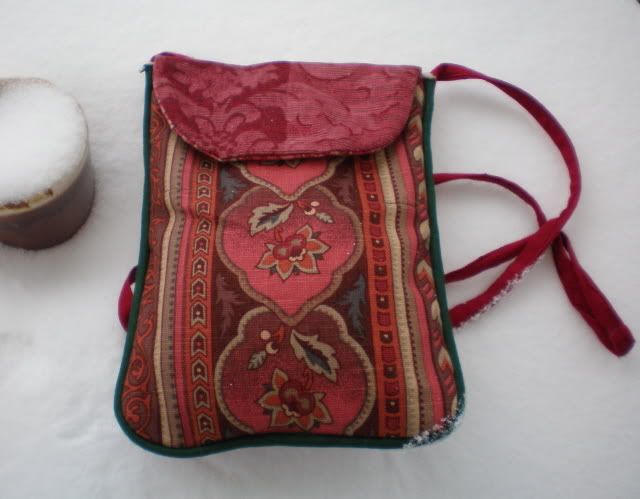 Isn't it nice? It's the only purse I've actually made out of all those upholstery samples I got a few years ago. I did say "purse," not "sock bag." I am repurposing it. It was just a little bit too deep for a purse and so never quite worked out for me. The idea was to better accomodate my long wallet, but I went too far (as usual). It makes an excellent sock bag.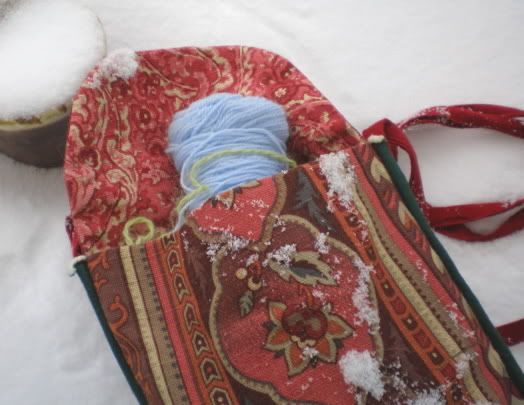 Let's see what's inside. Oh yes, vintage baby wool. To be specific, it is Art. E.277 Coats & Clarks Red Heart Baby Wool. Net Wt. 1 oz. 3 ply 100% Pure Virgin Wool "Tangleproof" Washable Colors Color 802 Baby Blue Dyelot 748. The quotes on "Tangleproof" aren't mine, though I would have added them anyway because I'm sure I could manage to defeat the tangling defenses Without even trying. Furthermore, I had some similar stuff and it DID felt. So, this may not really be washable. Sometimes "washable" means hand-wash only in luke warm yadda yadda yadda.
There is also a skein of angora. It is 80% Angora 20% Laine Merinos; Laines Fonty Tricotez l'Amour; Depuis 1880; Coeur d'Angora; 100% Francais; 25 g - =/- 108 m; Made in France. I like the "100% Francais" line. This is important people, especially if you are French! It's hairy stuff for sure. Its not as fine as the red angora with which I made bed socks a while back. The hairs are longer and seem a tad coarser. I love Angora. Kathy is to angora as Homer is to donuts.
Er
,
Kathy is to angora as Kathy is to donuts if you must know the truth.

And here is the sock with the 2 yarns stranded together. It's making for a very soft, yet fairly firm fabric. It'll probably be too thick to wear with shoes. The most accurate shade of the green yarn is the picture with both yarns peeking out of the bag.
Here's something else I'm making. It's going to be a baby blanket for Sophie. I was thinking full size twin bed blanket, but this knitting is hard on my wrists because of the weight of the project. But we shall see. I've got enough yarn and Seiding said she'd contribute some brights, which I lack. It seems to be a little better now that it's big enough to rest on my lap and still have my hands up at knitting level. I do hold them up at almost the level of the solar plexus. Maybe I shouldn't do that. I want to be able to knit for the long haul--for the rest of my life. I don't need no stinkin' carpal tunnel syndrome.
This started out as a log cabin square as you can see above. I kept on going though and am now working in the round, as you can see below.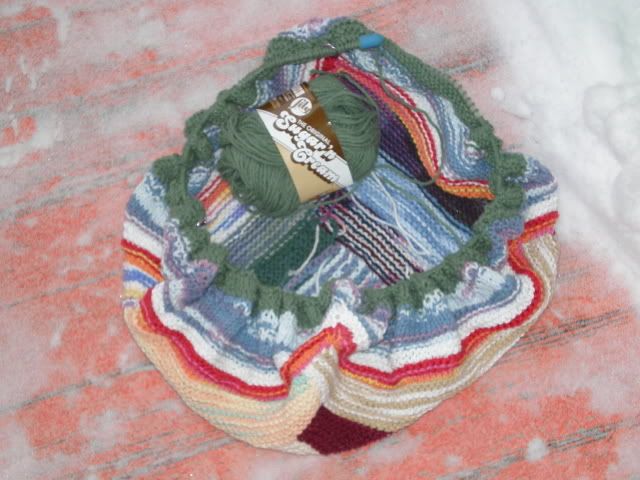 A few words to would-be snowtographers: Maybe the snow won't stick to your knitting if you bring your objects down to the outside temperature first. Eh?