Aside from more UFO's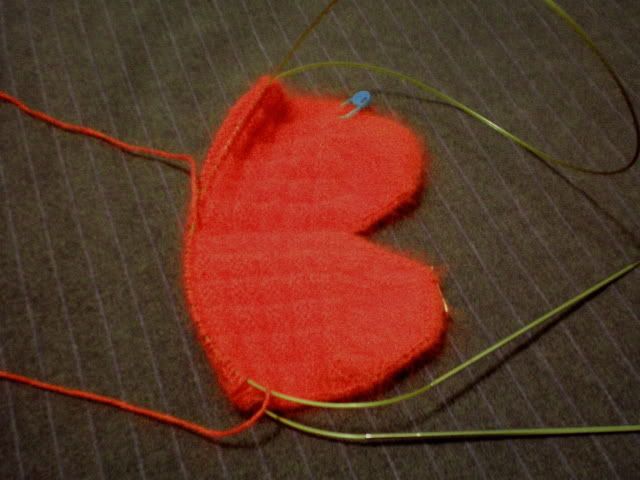 than I've ever heard claimed by anybody else, I've started a pair of socks out of the bright, bright, bright red Italian Angora that I got at Stitches Midwest for $7.00. They're totally dreamy. I'd like to wear them on my face. They'll really be for bed I think, because they're too luxurious and a little too big to mash into a stinky ol' pair of shoes. I've got about 4 inches done. I'm putting in a pattern of triangles in rows on the instep. I think you can just make out what look like squares. Those are formed by the rows of triangles. You can also see a little bit of the halo.
I just finished a beret for a friend. She asked me to make it for her. I don't usually do that. It's out of "Paris Night" colored yarn from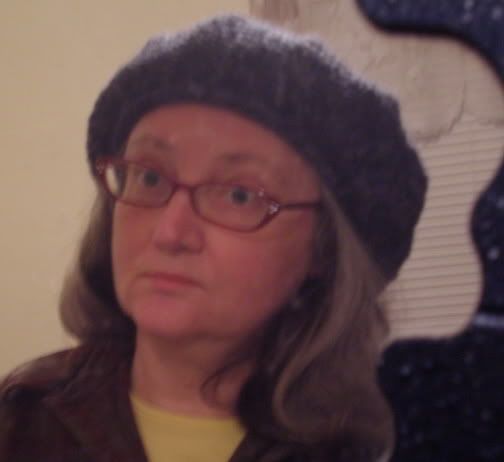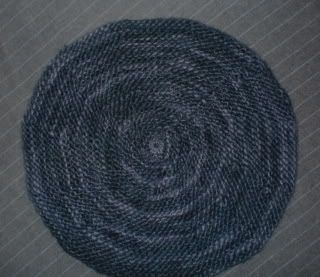 handpaintedyarn.com. I'm going to step out on a limb here and say that it's similar to Manos, only softer. I gave it to her and took it back right away because I need to take a picture of it. I can't really explain why I have no expression on my face. I was trying to look at the camera and not look at the camera at the same time. The picture of the back of the beret looks as if the lighter colored areas are ruts, but they are just lighter colored areas. I had to darken the picture and lower the contrast. The actual color and texture is somewhere in the middle between the two pictures. I have christened the place at the end of a hat where you pull the last stitches as a drawstring. It is the sphincter. So there.