=

For about a year now I've been showing up for Monday Night Knitting at the Borders Bookstore in the strip mall which some of us still call Brownport. I found out this Monday that this group has a name: Northshore Knitters. But I haven't seen any Articles of Confederation, a charter, or even the by-laws. Carolyn has just compiled a list of many of the knitters and I was honored to be on it.
=

The group was small this week and it wasn't until after Carolyn had gone home that I remembered my new camera. Melissa has been working off and on on this Fair Isle sweater for a while. I wish the camera could do the blue justice. I'd call it more of a dark ocean blue--bluer than teal, but greener than royal blue. It's absolutely a work of art. Maybe next week she'll have it again and we can get a photo of the bottom border.
=

Bev was working up a hat to sell. It is out of Manos. She actually had 2 skeins of this particular colorway and was very pleased with the mileage. She got something like 2 hats and 2 pairs of mittens out of it.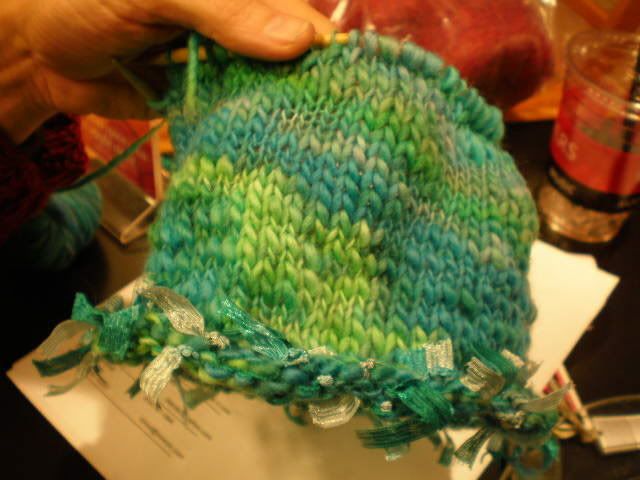 At the beginning of the evening, this little beauty was only a thin line on the needle. I'm sure it's done by now.
=

I played around with the leftover Paris Night yarn from Janie's beret shown in the previous post.
Between knitting that night and the 2 1/2 hours I sat at Saturn waiting for my car, I came up with a scarf pattern with which I am very happy. Since then however, I've decided not to knit it from the Paris Night yarn. (I'm making myself something.) I will keep it in mind for future projects for gifts. It is a quick knit and fairly dressy. Of course "dressy" for me doesn't even involve painful shoes. I'm not showing a picture because A, I didn't take one and C., I'm considering making a sample and entering it in Knitty. Of course, who knows?