So many things to blog about, so little chance that Blogger will let me put in all the photos. Sue and I met in Germantown this morning and had breakfast together. Here's a hint as to where we ate. That is Sue's lovely and talented right hand and the dead soldier was actually maple syrup. The next picture just shows a few things I picked up on the way out the door. I was tempted by a purse made out of a hollowed-out pink poodle, but I managed
to resist. Although, it would make a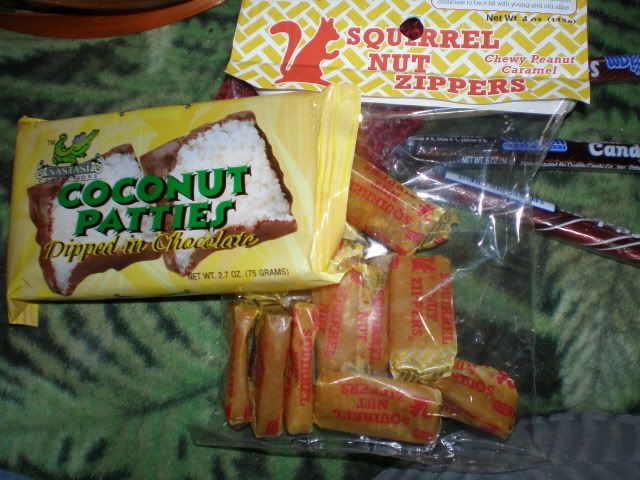 great sock-in-progress bag. Hmmm...maybe it's not too late. It definitely would be better for my health. The coconut patties were delicious. A good call. The Squirrel Nut Zippers are an acquired taste. I think I've eaten almost enough of them to acquire the taste. They're just like those peanut butter taffies from Halloween that are wrapped in either orange or black waxed paper. The difference is that they don't have as much peanut flavor. They're nearly translucent. Behind them are 3 of those sticks of candy that are all most kids can afford at any vacation or museum stop. I got Cherry-Cola, Root Beer, and Horehound. Sue got some also.
Sue told me to post a pic of the pink Trekking socks I made even though they are an OFO or old finished object. Not that old, really. I think I finished them in September, or so. I thought this yarn would be very blendy like the ones for which Trekking is famous. But it's stripey as you can see. I don't know why I was attracted to this yarn. These are NOT my colors. On the girlie scale I am a 2 out of 10. These had 72 stitches. I can't remember if I decreased for the foot, but I did knit the foot on smaller needles.
I've been trying and trying to post a pic of some other pink socks I made myself with Cascade Fixation from my 2005 Holiday Secret Pal, Doaner827. I'm just not getting anywhere with Blogger.