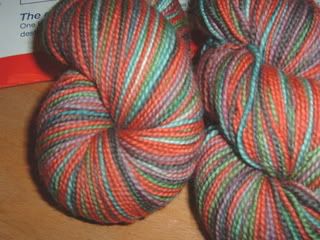 Yep. I know it's Saturday.
This is handpainted merino sock yarn by
ChaCha
from the Knitty forum. You can just see the horse (mailer) it rode in on. It is called something like desert sunset. Sorry I can't remember the name, ChaCha. I was begifted of such goodness because I destashed some Rowan Cotton Tape on her. Check out how beautifully this is knitting up.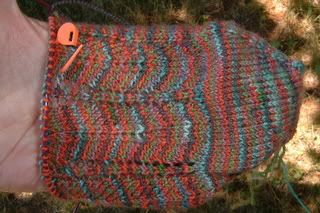 One more thing: I got this from ChaCha's blog.
What American accent do you have?
Your Result: The Inland North
You may think you speak "Standard English straight out of the dictionary" but when you step away from the Great Lakes you get asked annoying questions like "Are you from Wisconsin?" or "Are you from Chicago?" Chances are you call carbonated drinks "pop."
It's amazing. Milwaukee is in Wisconsin, on the Great Lake of Michigan, and is 90-120 minutes driving north of Chicago. However, people in my town don't say "pop;" we say "soda."